Faculty of Health Science Technology
Faculty of Health Science Technology
<Fujimino Campus>
The Physical Therapy Department and The Occupational Therapy Department (all years)
The Clinical Laboratory Medicine Department (first year only)
<Hongo Campus>
The Clinical Laboratory Medicine Department (second to fourth years students)
The importance of medical experts working in teams on the front lines of medicine is being emphasized more than ever before. Medical staff in every medical discipline, including prevention and rehabilitation as well as medicine itself, are now required to give their specialist opinions and work together as fully integrated members of a medical team. The Faculty of Health Science Technology aims to provide an education that will nurture the knowledge, qualities and skills required of medical technicians to fulfill their role as part of a medical team and contribute competently to the process of patient recovery and rehabilitation. Founded on the Bunkyo Gakuin University principles of coexistence and independence and benefiting from our affiliated Institute of Medical Technology, which has nearly five decades of educational expertise and boasts top-level examination results at the national level, the Faculty provides unique educational programs designed to nurture medical technicians who can work confidently at the front lines of medicine. The programs include small class sizes and the opportunity to study abroad in Europe, in the United States or in Canada, as well as allow for an open curriculum including both social welfare and psychology.
The Faculty of Health Science Technology is comprised of three departments: Physical Therapy Department, Occupational Therapy Department and Clinical Laboratory Medicine Department. Each of the departments benefit from departmental staff who possess a wealth of knowledge and experience in their respective specialties. Each department has first-rate facilities and equipment and provides students with an excellent study environment. A number of cutting-edge machines and equipment have recently been installed, including a 3D exercise analysis machine, a daily activity simulator and the most advanced optical microscopes. This equipment ensures an environment in which students can perfect their practical skills.
Department Introduction
The Physical Therapy Department
In order to provide a comprehensive course, the Physical Therapy Department emphasizes a variety of disciplines, including basic medicine, anatomy, physiology, pathology and kinematics. The curriculum is arranged so as to deepen students' basic understanding of their subject. The department possesses a wide range of equipment that places it among the best-equipped universities in the country, including a 3D analysis machine. A wealth of practical experience is also provided for students. This practical approach coupled with our state-of-the-art equipment ensure a high level of both practical and theoretical learning as part of the curriculum. Moreover, in addition to providing lectures in the field of sports injury rehabilitation, students also benefit from a system that allows them to study in other fields related to physical therapy, such as nursing, social welfare and psychology. This encourages students to gain a broad range of knowledge and enables them to acquire communication skills that will allow them to work as a member of a medical team in collaboration with other specialists. The Faculty of Health Science Technology Study Abroad Program is also well developed. Students can study in various partner universities overseas, and they can learn about the cutting-edge technology and advanced research in those countries. The department aims to nurture well-rounded physical therapists who are able to work enthusiastically and capably in a wide range of situations in the medical, nursing and welfare fields.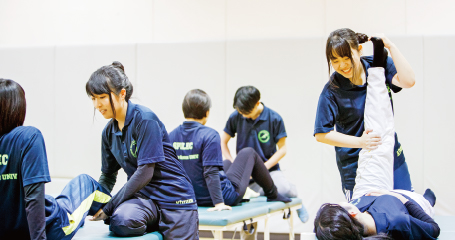 The Occupational Therapy Department
The Occupational Therapy Department has a broad-ranging curriculum that allows students the opportunity to study in a variety of other fields. Students can learn about anatomy and physiology in the field of medicine, and they can study psychology in such areas as the psychology of persons with disabilities. The curriculum also covers the study of a wide range of disabilities including developmental difficulties, physical disabilities, mental disorders and damage to higher brain functions. Students have ample opportunities to engage in practical training to improve their skills and understanding. By the end of the curriculum, students can acquire over 1,000 hours of practical clinical experience. There are certain focuses for each year of study. Students tour occupational therapy facilities during their first year, visit clinical facilities during their second year, engage in assessed practical training during their third year and have the opportunity to engage in an internship during their fourth year. A program is in place that enables students to benefit from receiving feedback from these practical experiences and also learn in small classes from a team of medical experts about a wide range of specialty subjects, while acquiring technical knowledge and skills. It is also possible for students to study subjects from other faculties related to occupational therapy, including social welfare and family cooperation. In this way the University seeks to nurture specialists who will work to expand the lifestyle opportunities for people with disabilities by connecting the hospital, the home and the community, as well as promoting independence in daily life.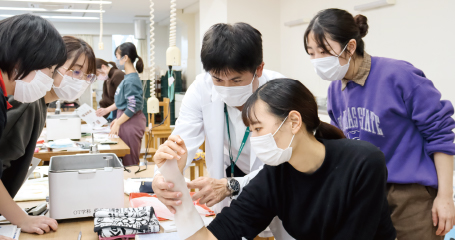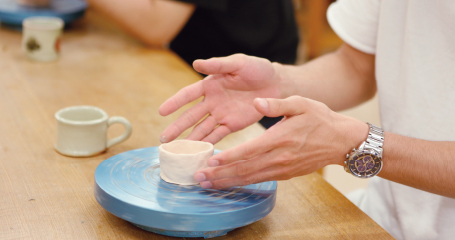 The Clinical Laboratory Medicine Department
The Clinical Laboratory Medicine Department has an advanced educational system in place that focuses on medical teamwork. The goal is to nurture clinical laboratory technicians who can provide appropriate explanations to medical staff and offer necessary advice during detailed examinations. The teaching staff includes doctors, pharmacists and clinical medicine technicians, who each possess a wealth of knowledge and experience. This makes it possible for students to acquire knowledge directly from experts and gain understanding based on practical experience. The department aims to assist students with achieving passing scores on the national examination for clinical laboratory technicians. In addition, the affiliated Bunkyo Gakuin University Institute of Medical Technology offers the benefit of a long-established history rich in tradition and knowledge that has been handed down to the more than 3,000 clinical laboratory technicians it has graduated over the years. The fact that so many of the department's students pass the national examination indicates the importance that the department places on developing technicians who have the required medical knowledge and the essential ability to communicate and cooperate with doctors and other medical staff in a team operation, while maintaining the initiative and leadership skills to identify and resolve potential challenges.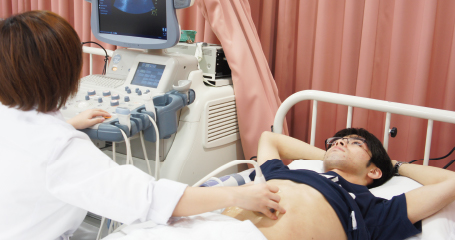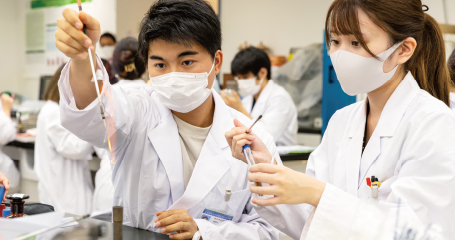 Facilities at the Faculty of Health Science Technology
The Faculty of Health Science Technology utilizes the newest and most up-to-date equipment available to allow students to engage in the practical aspects of study that are an integral part of all courses. The Equipment that the university has available includes a 3D exercise analysis machine, a daily activity simulator, equipment for physiological treatment, and various types of equipment for use in clinical examinations and analysis. This environment enables students to acquire a practical working knowledge of the equipment and engage in rewarding practical experiences and experiments.
Anatomy Laboratory
The Anatomy Laboratory collection contains more than 300 anatomical objects and models of approximately 150 different anatomical parts. The laboratory is laid out in the following four zones: exhibition, learning, storage, and management. The exhibition and learning zones are open to the public. The exhibition zone includes multimedia exhibits which enable visitors to enjoy a hands-on learning experience and come into contact with life-size models.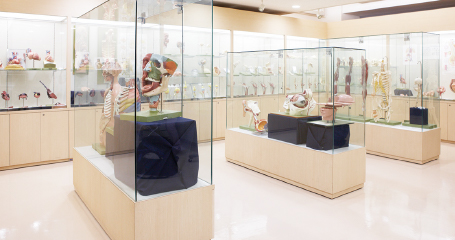 Training Laboratory for Daily Activities
This laboratory possesses simulation equipment for activities such as the bathing, toileting, and washing, of patients. It also has a kitchen installed for training purposes including a sink that is used for training. This facility has a number of wheelchairs that can be used for training and gaining an understanding of daily life and how patients get around in a wheelchair.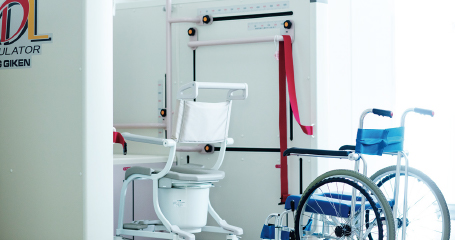 Physiotherapy Center
The center possess a number of the most modern types of slings, which is a method of physiotherapy developed in Norway that has gained popularity in Japan. The sling method uses ropes hung from the ceiling which enable patients to move without bearing any of their weight. This equipment therefore enables patients to engage in training and rehabilitation depending on their physical condition.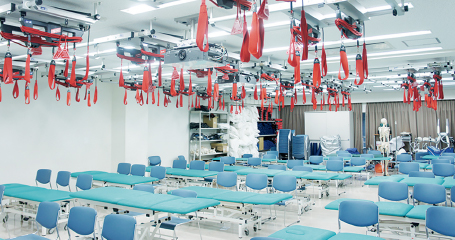 Kinematics Center
The center possess a variety of training machines designed to focus on particular areas of the body, and also has a 3D exercise analysis machine that includes measuring equipment and multi-directional cameras.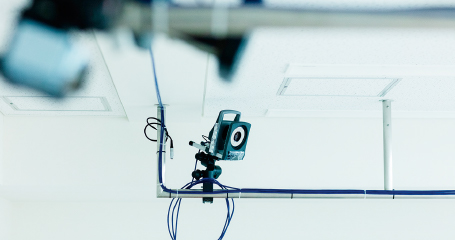 Hydrotherapy Facility
This facility utilizes the buoyancy and resistance provided by water as an aid in limb rehabilitation exercises. It helps patients regain mobility and engage in walking exercises.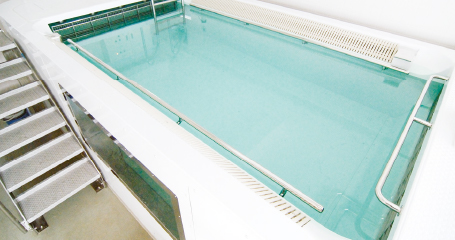 Medicinal Science Laboratory
This laboratory has brand-new optical microscopes that are fitted with LED lights to enable specimens to be viewed under stable temperature conditions. Students are able to utilize high-powered microscopes beginning in first their year of study.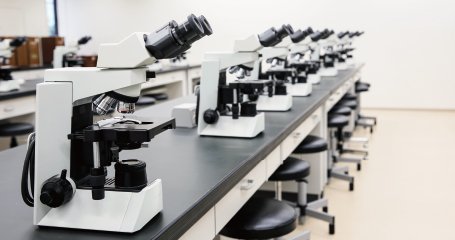 Hongo Campus Joint Research Building
The Hongo Campus Joint Research Building was completed in October 2006 and contains a wide range of advanced medical equipment. This is the building in which students of clinical laboratory medicine engage in their studies and research beginning in their second year.