Student Support&Campus Life
Scholarship Programs
Bunkyo Gakuin University has a scholarship system in place that offers a fixed award to students of outstanding academic ability and human integrity who demonstrate the need for economic assistance. In addition, the University provides a counseling service that can introduce students to other monetary resources to help them meet their financial needs.
Ishiko Shimada Memorial Scholarship
This scholarship was established on behalf of the university's founder, Ishiko Shimada. university students who meet certain specific conditions receive this award.
Scholarship Loan Program for Japanese students
The Japan Student Services Organization (JASSO) oversees this loan program which supports students who need financial assistance.
Honors Scholarship for Privately Financed International Students
The Ministry of Education, Culture, Sports, Science and Technology (MEXT) has established this scholarship program for privately financed International Students who are studying at Japanese Universities. These students have excellent academic records, yet require financial assistance in order to continue studying in Japan.
The Student Counseling and Health Center
Bunkyo Gakuin University makes a continuous effort to provide a supportive environment for students who may be concerned or worried about aspects of their academic life, their future career, or their personal relationships. In order to respond to such issues there are Student Counseling and Health Centers at both the Hongo and Fujimino Campuses. Medical experts and counselors who specialize in these areas are available at the Student Counseling Center to provide advice on a non-fee basis concerning the various issues and worries that students face. Efforts are also being made by the student counseling center to eliminate any possible sexual harassment with the establishment of regulations on the prevention of such forms of harassment. At the Health Center the nursing staff is on hand to respond to inquiries concerning health issues.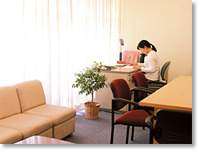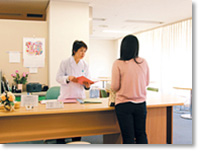 The International Programs Office
The International Programs Office is the central source of information for the international exchange students on our campuses. The center office provides orientation, information, and advice on all aspects of student life in its booklet "Procedures for International Students," including methods for applying for scholarships and explanations about living in Japan. The office is open throughout the semester while the International students are studying in Japan to provide assistance and answer pertinent questions that the students might have.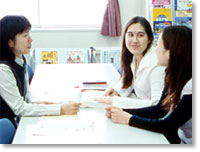 The Information, Education and Research Center
The Information, Education and Research Center was established to support students in information processing abilities and to improve students research and computer skills. The center employs expert staff who provide information and guidance on computer-related topics. Facilities at the center, including the computer room, can be freely used by students when they are not in use for lessons and lectures.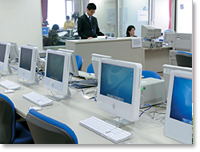 The Lifetime Learning Center
The University established the Lifetime Learning Center in order to respond to students, working members of society, and other individuals who are seeking opportunities to continue learning throughout their lifetime. Each year approximately 600 courses are offered in fields including business, official qualifications, languages, psychology and social welfare. Student can also study to obtain in various areas of study. In any given year the center hosts more than 5,000 students who take part in the wide range of courses.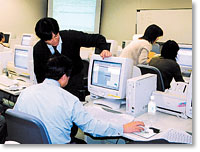 The Karuizawa Seminar House
The University established the Karuizawa Seminar House as an off-campus facility for seminars, clubs, extra-curricular activities, study events, and field trips. The Seminar House is located in the famous mountain resort area of Karuizawa. It is a well constructed two-story building that encompasses 6,600 square meters of space and can accommodate up to 100 people. Protected by the mighty Mt. Asama, the facility is also close to tennis courts, golf, courses and ski resorts, making it the perfect location for those seeking to participate in various outdoor pursuits. The area also has many other things to offers including other sports and leisure activities, cultural activities, and places to interact with nature.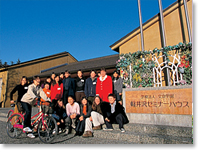 Campus Life
With its libraries, lounges, computer rooms and classrooms, the campus offers an all-around environment for college life. Club activities are very popular, and many exchange students participate in various campus groups. There are a number of club activities to experience, including group sports, tea ceremony, and ikebana flower arrangement in the traditional Japanese room. Campus events are directed by students and individuals can produce their own unique brand of campus events.
April

Entrance Ceremony
Off-campus training for incoming students

Entrance Ceremony

May
July

Foreign Language Festival
First Term Exams
Summer Holidays

August

The 53 Stations of Tokaido Walk

September
October

Founder's Day
Bunkyo Festival
Halloween

Halloween

November
ー
December

Christmas Party
Winter Holidays

Christmas Party

January
February
March

Awarding of Degrees